Pug training
Training Your Pug To Come
Video credit: The Pug Diary
PUG TRAINING TIPS
A Sensible Way to Train Your Pug
Are you in need of well-behaved pugs to get rid of problems? Do you want your pug to listen to you in all situations? Do you need your pug to be well-mannered around your colleagues? Pug training suggestions are on this page and, you have reached the right place.
It's really not an issue if your pug is still like a little pug or causing problems for many years. You can overcome these issues by starting training to make your pug excellent in all matters. To improve the behavior of your pug, it's really mandatory to train your pug. You can institute training whenever you wish.
Most training methods are based on the owner's wish rather than what actually makes sense on the pug. The pug breed is usually small, independent and stubborn but cute dogs. So, it's difficult to train them. Before entering into pug training, you should be aware of your dog's temperament, personality and also about yourself.
Most importantly you must teach your pugs about house training. The Pug is regarded as the largest breed of toy dog and so it is best to train them outdoors. Basically, direct commands are the most important thing to teach a pug. Giving proper training to the dog in its youthful age will definitely help pug to gain well-defined manner in life.
Different Methods for Pug Training
Your pug may not have the sense of eliminating in the right place is desired unless it is conveyed by you. Also, any accidents or injuries during potty training should be handled with controlled manner. If you show your anger, then definitely your dog will feel afraid of you.
Dogs, in general, need your loving guidance to show and train them what is perfect. Until your pug is properly trained, it's suggested to have your pug beside you at all times when you are at home. This will definitely help you to know better about your pugs' motions and manners thereby assist you to train it.
You can keep your dogs near you by following various methods like Umbilical Cord Method, Crates and Gated area. Crates are usually not recommended during day or morning time because your pug will not be confined to small area.
Train Your Pug to Respect You
Respect Training is actually one of the methods for training your pugs. This training is mandatory for the dog which respects you will definitely follow your words and will act according to the command given by you. Training your pug to respect you signifies interaction with your cute pug in an encouraging manner.
Train Your Pug with Right Words and Right Ways to Follow
Another method to train your Pug includes training them with right words and this can be achieved interacting with your pug whenever you are in the home. This not only improvises learning right word but also improves your personal bonding with your dog. Your pug will learn respectful attitude and obeys you and this will make you feel happy and accomplished. If you teach those words in the right way and then surely, he will follow and obey you.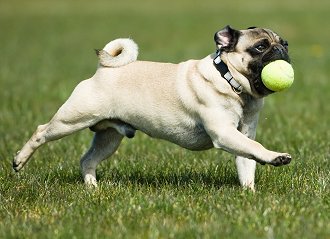 Socializing Your Pug
Socializing your pug signifies training your pug to get along with your colleagues and strangers. You should introduce your lovely dog to all your friends, strangers and colleagues and this will help your pug to get along with them politely. Dogs must be taught with all the things around the world since some dogs may react weirdly on seeing some strange things. Also, train your pugs to be polite with fellow dogs, cats and other creatures around them.
Train them to Eliminate at the Right Place
Usual complaints from all dog owners are that their pug is peeing in the home as soon as they enter the home. You must have the proper patience and time to wait outside until your pug finishes its peeing.
Sometimes, you may be confused with your pug's attitude before peeing and it's better to bring them out if you notice any of the weird behavior. You please wait at least for 20 minutes when your pug is learning this housebreaking rule.
Housebreaking Set Back
In some cases, your pug may appear fully trained but without any reason, there may be set back and it may forget about all rules. In such a situation, make sure whether there is any health issue with your pug. Sometimes, it may due to the attention seeking behavior of your pug. If you are busy with your work, your pug may play this trick to grasp your attention. Pugs are basically sensitive, so don't react much to them. Because pugs may tend to feel hurt if it's not treated in the right way. In such a case, it will tend to rub his nose in his pop or will get upset and this will not help you out during training. So, it's really best to give your pug with positive encouragement and enthusiasm and forgive all accidents to achieve your needs.
For achieving successful training of your pug, you must have a proper plan and ways in your mind and abide all the house breaking rules.  If you would like a course on potting training your pug, one is available by clicking the banner below.