Tips to Take Care of Pugs
Routine Pug Maintenance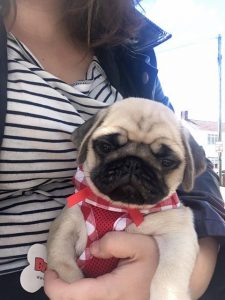 Of all the different breeds of dog that one can choose from, one of the best without a doubt is the Pug. These are truly adorable little dogs, and super friendly. They are also great family pets even around very young children, as long as they are trained properly of course. There are a few issues with the Pug that any potential owner must be aware of, however, and more than anything this refers to Pug care.
The process of taking care of pugs can be a challenge as well as a delight to your self-discipline. These expressive faces and soulful eyes can encourage you to give them exactly what is required. However, overall they are very easy pugs to take care of although they have a few special needs. Some tips to caring for these pugs have been explained as below:
Allergies
When it comes to Pug care one of the first and most important issues that need to be discussed involves Pug allergies. Allergies in dogs can be as severe as uncontrollable itching and the development of blisters. One of the most efficient ways to deal with Pug allergies is ensuring that the dog is neutered, bathing them at least once a week and wiping them down with a wet cloth frequently for instance are all great ideas because they will help keep the dog clean and healthy, particularly his fur, which is where many allergens tend to hide and cause problems. This will contribute to soothe and cool their skin, and shampoos that contain eucalyptus and Aloe Vera are often helpful as well.
Start training the pug
As soon as you get the pug home start training him. The first six months of his life are the most crucial because this is the period in which he will learn all the tricks that are going to stay with him for the rest of his life. Sit, stay and come are some command words that you must make your pug to obey. It is one of the important things to remember.
Groom him from time to time
Brushing your pug at least twice a week will help you to contain this shedding, but you must be prepared to vacuum as much as possible. Bathing of the pug can also help you a lot. Compared to other dogs, usually enjoy a shower or a bath, and this is quite unusual. You can also use an oat- meal based shampoo as these pugs are prone to skin irritation.
Clean all his facial folds
At least once a week, it is important to clean the facial folds of the pug. The wrinkles on his face will collect a lot of food, dust, and dirt and you must be able to eradicate all these. In case you don't clean them up, the pug will most probably develop a fungal infection. 
High-quality pug food is the order of the day
You need to mostly feed your pug excellent pug food. You can also do some research on his breed to know what are his favorite foods. You need to feed him at least three times a day when he is between 3 and 6 months old. There are also some quantity guidelines that are provided on this pet food packaging, and you can always talk to your vet regarding this.
Train to him keep your house clean
This is the most important task that you will have to take care of. Keeping your house clean should always be on the top of your mind. Train him to go out to pee or stool.
Pugs require a fair amount of consistent and ongoing care, and people need to be aware of this before choosing to have this dog as a pet. There are also many Pug allergies that you should be concerned with, and in fact if left untreated Pug allergies can be just as ailing as human allergies. There are ways to deal with dog allergies, and if your dog is always scratching his skin or getting blisters, the odds are that they have allergies. Hence, it is very important to become an expert in pug care.
Pugs are extremely loving and loyal companions that need extra care as they are a unique breed of dog. When you own a pug, make sure that you have the time that is required so you can provide them with the proper care that they need.
article source: petpugdog.com/pug-dog-care-tips