How To Train Your Pug Dog
The 1-2-3s of Obedience Training
As with any type of training, there needs to be an initial basic introduction to steps to learning.   Putting in the work and effort up front will be of great benefit for the rest of your pug's life.  Train your pug consistently in the begin with constant repetition. Basic commands allow you to keep track of your pug, prevented some behavioral issues, and help with grooming. Teach your Pug to "Sit" by saying the word and comprising a treat out of reach above the dog's nose until the
Pug sits. Reward the dog immediately with the treat and praise.
SHAKE.
Video credit:gerrity Kan
Pugs may be little, but what they lack in size, they make up for in personality. They are fun caring, loyal, and affectionate dogs that love to make their owners smile. Pugs are also intelligent but can have a stubborn side, which could stimulate training your pug a challenge. Train your pug as soon as you bring him or her into your home, so don't delay in helping your pug become a well-behaved member of your family. You will be glad you started early.
Encourage your Pug to Stay Focused.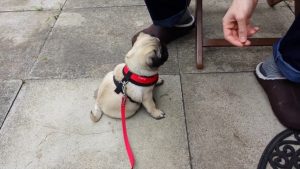 Know that your Pug cares about pleasing you, but can get sidetracked by a short attention span. To keep your own pug focused, teach him the' focus' command. Set your finger on his nose, reply "focus", then place the thumb on your own nose. When your pug stays focused on your finger on your nose, immediately give him a treat. Lengthen the time he watches your finger before you reward him. When he's mastered it, use it each time he gets confused during training sessions. Because of the short attention span of pugs, keep your training sessions short.  A good period average time suggested for training your pug should be in and around 15 to 20 minutes.  Ensure to repeat the lessons frequently.   
When training your pug dog, start with basic commands.
When your pug hears the basic commands, he will have the proper foundation to behave properly and open to learning even more commands. Examples of some basic commands would include, sit, fetch, stay, focus, shake etc. 

Use plenty of positive reinforcement( verbal encouragements, treats, extra petting) every time your pug correctly follows your command. The more excited you appear, the more your pug will try to please you and behave as expected.




Do not encourage any chewing behaviors.

Pugs love to chew. Teaching your pug to 'leave it ' will help keep him from chewing something improper( e.g ., furniture, shoes ). The "drop it" command will teach him to decline whatever is in its mouth, particularly if it's something he's not supposed to do now chew on.
Increase confidence, reduce aggression with comprehensive pug training. Good luck!